5 UNIQUE PLACES TO STAY ALONG THE CABOT TRAIL
1. CABOT SHORE WILDERNESS LODGE
Live practically off the grid at this Wilderness Resort & Retreat Centre offering cultural adventures, wellness services, and various types of retreats in an eco-friendly environment. This is not just a place to stay - it's a community - a place to connect with nature, locals, like-minded travellers and yourself.
Cabot Shores is such a special place that it often becomes home base for visitors to Cape Breton. Stay in a Mongolian yurt, a geodesic dome treehouse, an old farmhouse or a chalet. Wake up to daily complimentary meditation and Qi Gong. Enjoy live music every Thursday and Saturday. Vegan or Vegetarian? No problem. Contact them in advance to plan meals that are right for you. Cabot Shores uses locally grown and sourced ingredients.
2. CAPE BRETON HIGHLAND NATIONAL PARK
Cape Breton Highlands National Park offers 20 Otentiks (part tent, part cabin) for rent. Camping is one of the best ways to truly appreciate the Cabot Trail. There are five front country campgrounds and one backcountry to choose from.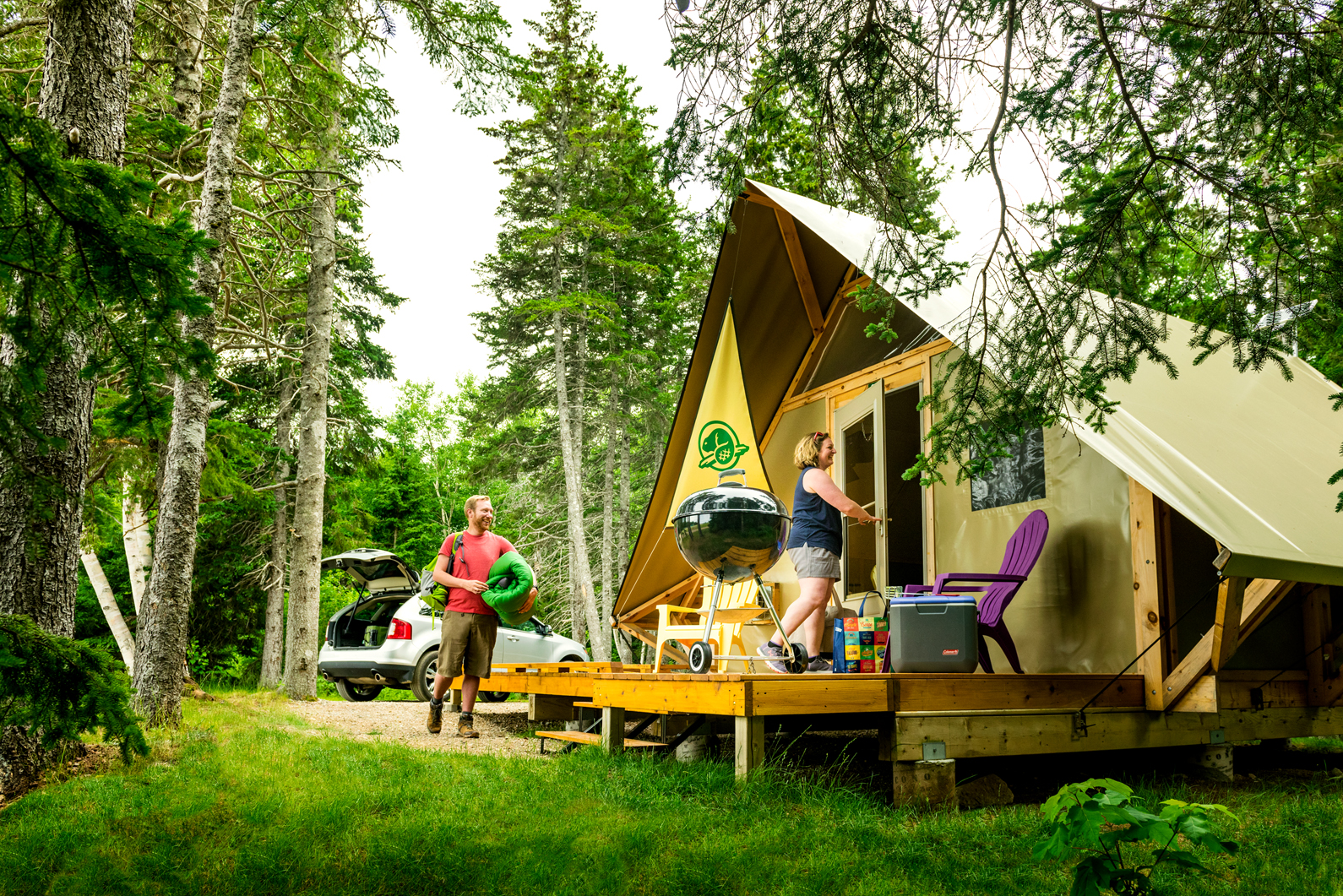 3. CAMPGROUNDS: CHETICAMP CAMPGROUND AND INGONISH BEACH
Cheticamp Campground and Ingonish Beach Campground offer five reservable equipped campsites each. Just bring your personal items and your sense of adventure.
4. KELTIC LODGE RESORT AND SPA, INGONISH BEACH, NS
If golf, spa retreats, upscale cuisine and stunning views make up your Cabot Trail checklist, you may want to check into Keltic Lodge Resort and Spa and perhaps even book an extended stay.
5. CLIFF WATERS COTTAGE, PLEASANT BAY, NS
If total seclusion is what you enjoy, then this location will capture your heart. Cliff Waters overlooks the Gulf of St. Lawrence, with panoramic views of the ocean, Pleasant Bay and the Cape Breton Highlands National Park. Enjoy meals and relaxation on the ocean-facing deck or head down to the bottom of the hill to enjoy swimming, lobster boils and evening campfires.