A Vibrant Guatemalan Santa Semana (Easter) Celebration & Cultural Tradition
Antigua, Guatemala's Santa Semana (Easter) tradition of families temporarily carpeting the cobblestone streets with colourful Alfombras, touched, and will forever live in, author Bel Woodhouse's heart. As Easter approaches she remembers her time living in Antigua and shares the magic of witnessing the ceremony surrounding the creation of the intricately patterned carpets and of immersing herself in the celebration. This is her homage to "one of the most beautiful traditions she has ever seen."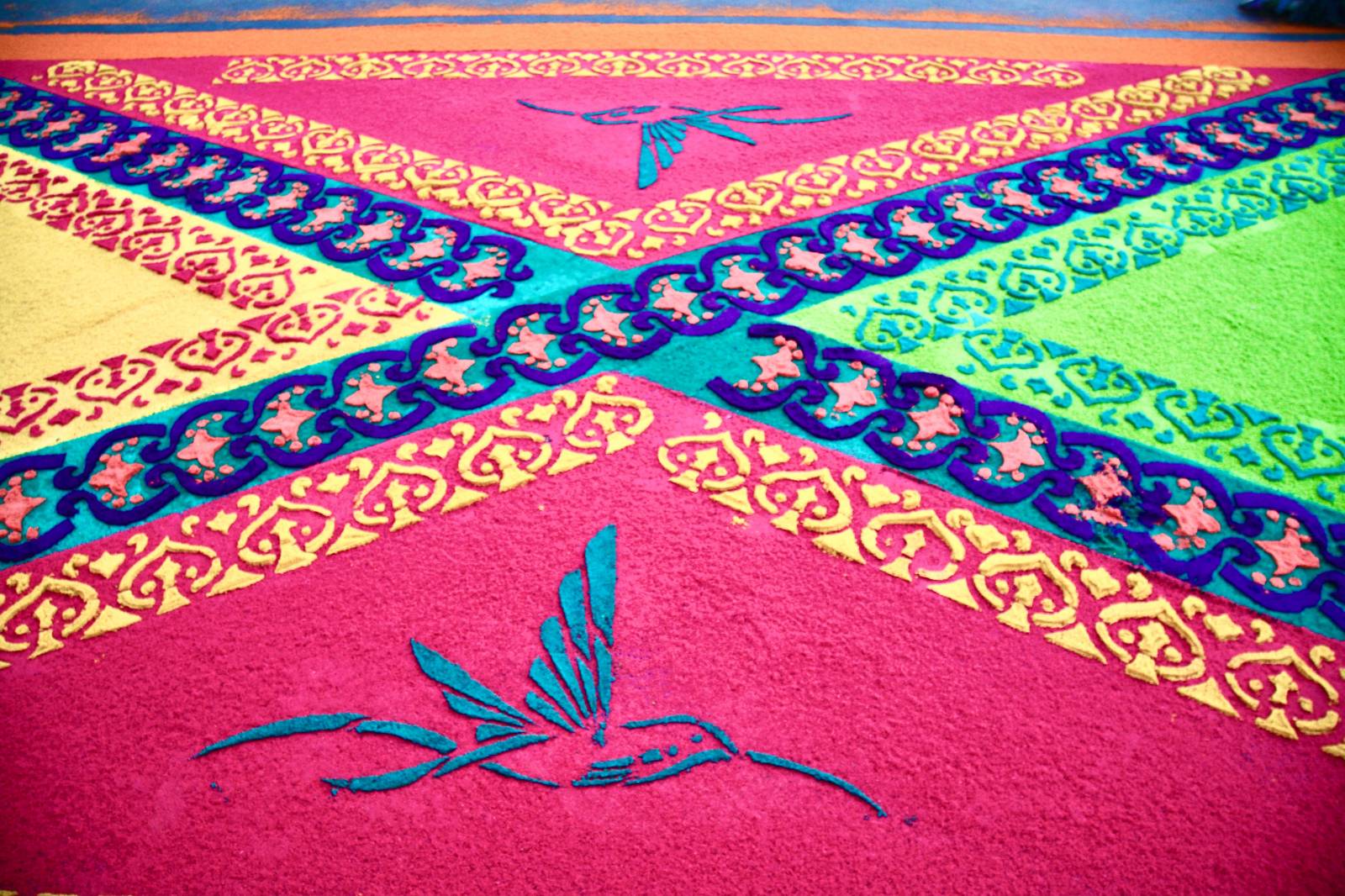 There are few things that can make me want to jump out of bed at 3 am. Apart from an earthquake, there is only one other thing that had me jumping out of bed in the wee hours while living in Antigua, Guatemala.
Alfombras. The gorgeous colourful temporary carpets that fill the cobblestoned streets of Antigua during Semana Santa (Easter) each year. Impossibly intricate patterns handed down from generation to generation in an amazing cultural tradition bringing families and communities together.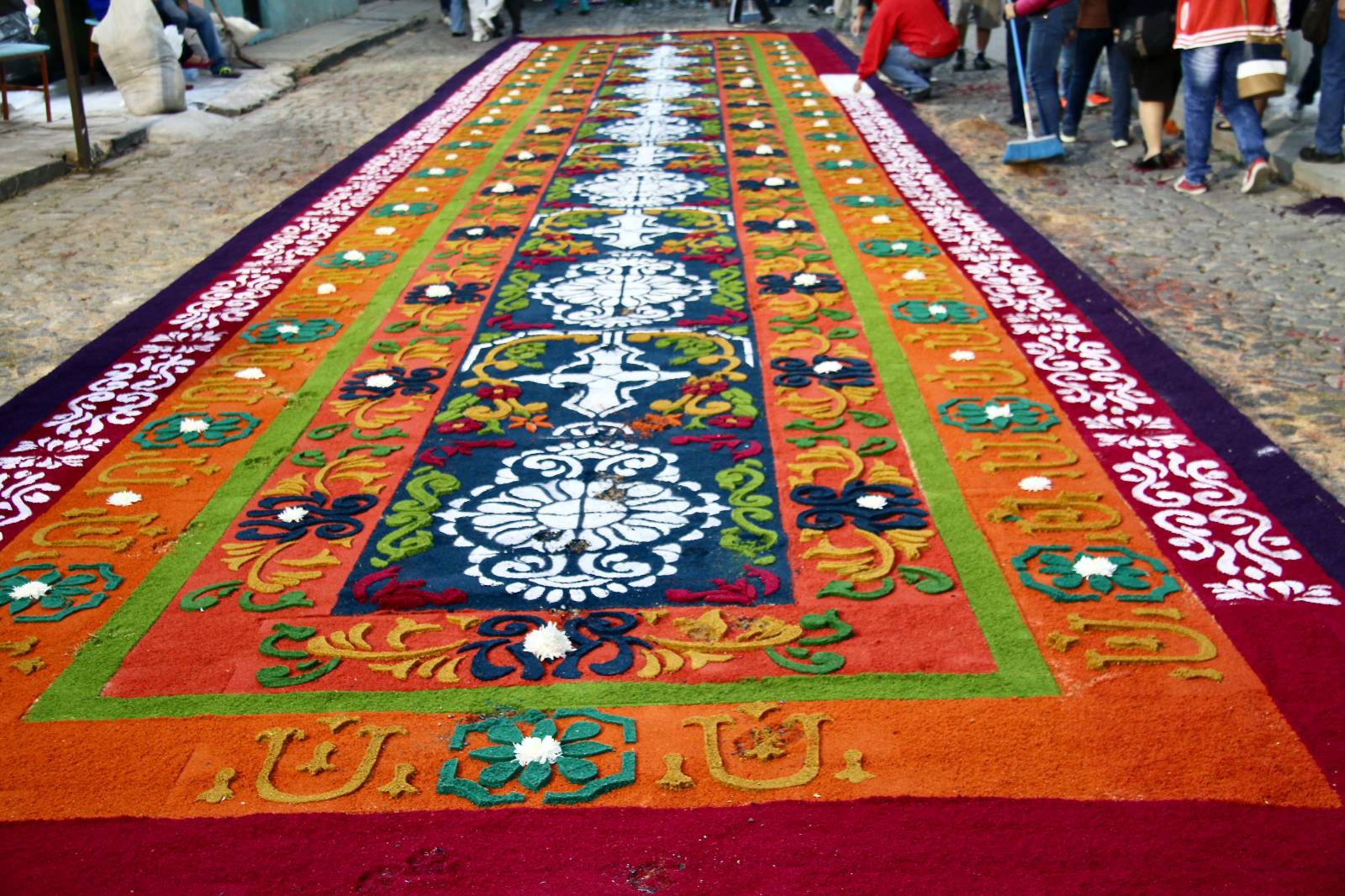 Family Tradition & Artistry
Fathers work alongside their fathers. Sons alongside them. Younger generations join in, overseen by the smiling abuelas (grandmothers) and abuelos (grandfathers) who sit chatting with friends along the side. Three or four generations of the same family spend all night patiently creating their family's masterpiece. Carefully laying down layer upon layer of vibrantly coloured fine sands.
Cousins laugh together, brothers and sisters tease each other and the love and comradery of "family" fills the air. The streets are alive with community, culture and of course the aroma of Guatemala's world-class coffee.
There is tranquillity amongst all the activities. People patiently assemble each intricate part of their alfombra. Even laying tiny flowers by hand to form borders or delicately weaving them into the patterns.
Creating Alfrombras, a Labour of Love
Big floodlights are set up so there's enough light to work as small trestles straddle the street-wide alfombras under construction.
The base colour blocks are sifted and filled then stencils laid on top to create their glorious patterns. These designs have been passed down through the generations, each family with its own unique way of paying tribute. Some are very detailed patterns full of flowers and fillagree. Others depict animals, places, and traditions. A richly creative mix of religious and mystical meaning.
Grandfathers sit overseeing the progress while mothers and grandmothers fuss over everyone, bringing snacks and coffee before settling back into their chairs to laugh and talk with friends. Always smiling, occasionally they mutter an endearment to the younger ones sliding along the planks filling the alfombra central squares.
It always amazed me watching how precisely they came together. A true artisan's calling. Working with fine sand, the Antiguans mastery of such an unusual medium is nothing short of magical. As if their ancestors, saints or spirits were somehow alongside them helping and guiding their hands. Never a grain out of place.
Connecting with Community
Guatemalans from all over the country arrive by the hundreds to walk the cobblestoned streets and delight in watching these alfombras being made. It's magical. I never wanted to miss a moment of it. Each year for many happy pre-dawn hours I strolled the streets feeling at peace.
Sometimes I would sit with a family and watch them create. All are welcome. The families love it when someone shows an interest in their alfombra. After all, they put their heart and soul into these glorious masterpieces. There is a pride that shines in their eyes. I don't blame them. I would be immensely proud as well.
Each year I would search the alfombras for a representation of my favourite Guatemalan talisman. A tecolote, an owl. Walking the streets of Antigua you will find them everywhere. In shops as offers of good fortune. Or, peering out at you from homes as they protect and bring good luck to the family within.
I fell in love with this tecolote as the sun was rising.
Its fine dusting of gold seemed to shimmer. Moving side to side made it appear to move slightly which had me giggling hopping from one foot to the other in delight. The family watched my shenanigans with broad smiles and shy giggles. It is one of those treasured unforgettable moments that will be with me for life.
The thing that impressed me most was the shading. Unbelievably exquisite shading can be seen through some alfombras. It adds a lifelike dimension and made me almost cry when I saw the procession approaching. Something so beautiful about to be trampled...
The Alfombras' Blessing & Fate
Although they take all night to make, alfombras are destroyed in moments when the Catholic ceremonial processions pass over them. That is why they are so precious. The fleeting life of an alfombra - offered as a blessing during Semana Santa (Easter/Lent) each year.
It is a bittersweet but beautiful tradition that brings families together and strengthens their faith while celebrating this religious holiday. The long continuous gallery of alfombras marks the route of the procession through the streets of Antigua and the return to the church. Usually, a thick base of sawdust is laid down first and this stabilizes the alfombras giving an even surface for the procession - which often includes up to fifty men, carrying very heavy ornately-carved wooden floats depicting the story of Christ - to walk on rather than the uneven cobblestoned street.
In my years living in Antigua, I travelled the length of the country several times. Immersing myself in the culture, traditions, festivals and celebrations. But, this is the tradition that touched my heart the most. Special energy surrounds everyone at this time. You're welcomed into this warm community and feel like you belong.
And then one lucky day, you are blessed by an Abuela's kiss as she counts you as family. It's as if the entire city is one big family!
So, if you are ever lucky enough to spend Easter in Guatemala, I sincerely hope you make it to Antigua. This Spanish colonial city will charm you with its baroque architecture, warm-hearted people and the most amazing alfombras in the country.
May you spend many happy hours strolling the streets as I have. It really is worth getting out of bed for and the most beautiful tradition I have been blessed to have experienced anywhere in the world.
We hope that Bel has inspired you to plan your own trip to explore Guatemala at a time you too can connect with the community and experience the beautiful magic of the traditional alfombras of Santa Semana.
Unfortunately, this year the artistry and traditional celebrations of Holy Week and Easter in Antigua have been cancelled. We publish this as a tribute to all the beautiful alfombras that have been created in the past and in recognition of all the families that will carry the tradition into the future. May this bring back fond memories and act as a reminder of the joy that you have shared with each other in the past and the importance of keeping traditions alive.
Feliz Semana Santa