From Halifax to the Annapolis Valley - 5 Days in A Foodies' Paradise
If you only have five days to visit Nova Scotia, you have lots of decisions to make. Do you explore the north along the Cabot Trail and Cape Breton Highlands National Park? Or do you head south to visit the coast along the Bay of Fundy? Luckily, as part of our Nova Scotia series we've created two jam-packed five-day itineraries to help you make the most of your trip to the province. We've also sourced for you the 5 unique places to stay along the Cabot Trail and the 10 best dining experiences in Nova Scotia. In this blog, we'll cover everything you need for a five day trip to Halifax and Annapolis Valley. If you want to visit the Cabot Trail instead (or as well), make sure to check out our Five-day itinerary for North Coast.
DAY 1
HALIFAX
Halifax's easy transport links make it the best place to begin your exploration of the Fundy Shores. With so much to do in the city, we recommend staying and exploring there for a night or two.
From the Harbourfront all the way up to Citadel Hill, Halifax is a stunning city with a strong urban feel. With Halifax as your home base, you can tour locations outside of Halifax during the day (Peggy`s Cove, Lunenburg, Wolfville and Lawrencetown Beach) and enjoy the vibrant nightlife of Halifax during the evening.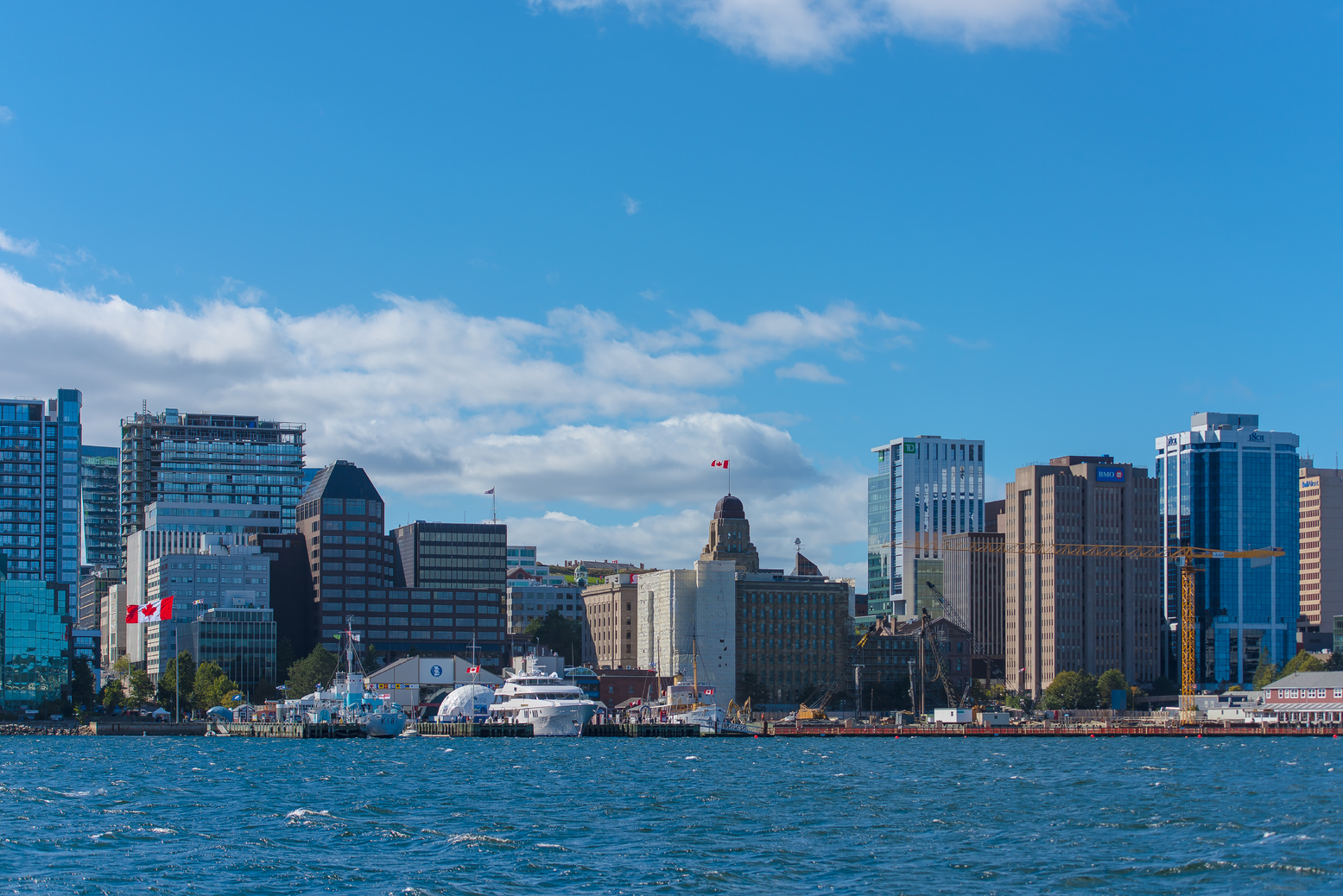 Morning
If adventure is what you seek, drive east of Halifax for about 50 minutes to experience Lawrencetown Beach. Lawrencetown Beach is part of the Cole-Harbour/Lawrencetown Coastal Heritage Park System and offers birding, hiking and surfing (just a few of the many outdoor activities). It's wonderful to find this ocean paradise just a short drive from Halifax. Book a surfing lesson at East Coast Surf School and enjoy the Atlantic Ocean by hanging ten.
Afternoon
Return to Halifax and discover the historic port city as you walk the cobblestone streets of the waterfront. Start at the Canadian Museum of Immigration at Pier 21 - the gateway into Canada for one million immigrants (1928 - 1971). Check out shops, restaurants and galleries. Visit the Seaport Farmers Market with over 250 vendors (North America's oldest farmers market!). Don't forget to patron the Maritime Museum of the Atlantic which includes information on the city's link to the Titanic disaster.
Evening
To top off your tour of the waterfront, grab a bowl of chowder or some fish and chips on the patio at the Lower Deck Pub or make your way inside for live local music. Otherwise, it won't be hard to discover Halifax's other exciting dining options.
DAY 2
Morning
Just a short 50 minutes drive west from Halifax you will find the idyllic fishing village of Peggy's Cove, home of the iconic Peggy's Point Lighthouse. Despite the number of visitors every year, Peggy's Cove has maintained its charm as a small fishing village.
Afternoon
Continuing on from Peggy's Cove, Lunenburg, a UNESCO World Heritage Site, is a scenic 1-hour drive further west. This idyllic ship-building town steeped in history is home of the sailing ship Bluenose II (that's it on the Canadian 10 cent piece). You will feel like you've gone back in time with the colourful colonial buildings, the sailboats in the harbour and the narrow roads in Old Lunenburg. Stops worth making along the way to Lunenburg - Chester and Mahone Bay.
Additional Day Trip Option - Annapolis Valley Wine Tour (Grand Pre, Wolfville and Fundy Shore)
Whether you are staying in Halifax or in the Annapolis Valley region, if wine is your tipple of choice, be sure to book a Winery Tour. Nova Scotia is quickly becoming recognized as a wine destination and you will have fun discovering why on your tour. Pick up a bottle of Tidal Bay, Gaspareau Vinyard's signature white wine, to enjoy with your next seafood meal.
DAY 2
WOLFVILLE
As you are touring wineries in the Annapolis Valley, you are going to be blown away by the charm of Wolfville and you will want to spend more time here.
Wolfville dubs itself a Fair Trade Town and for anyone who believes in ethical travel, this town will speak to you. From the cosmopolitan small town to the surrounding Bay of Fundy, you will find yourself captivated by this enchanting place. There are lots of ways to spend your day in Wolfville, but we can recommend:
1. Harriet Irving Botanical Gardens
3. Randall House Historical Museum
DAY 4 - 5
DIGBY AND YARMOUTH
DAY 4
If you are travelling to Nova Scotia from New Brunswick, you can take the ferry from Saint John to Digby, Nova Scotia (another place you can start this itinerary). During the 2h15 min ferry ride, you will enjoy spectacular views of the Bay of Fundy. If the Digby name sounds familiar, it`s thanks to the world-famous Digby Scallops which are featured in restaurants around the world. The Digby Port is recognized as one of the most sustainable fisheries in North America.
Morning
While you are in Digby, you can enjoy the Fundy tides, parks, trails and a championship golf course. Digby is also one of the best places in North America to go whale watching.
Afternoon
From Digby, take the picturesque 1-hour drive along the Bay of Fundy to Yarmouth and the Acadian Shores. There are plenty of scenic stop-offs to make on the way. for Acadian culture is evident across the Maritime provinces and you can discover what life was like 300 years ago for these joyful people at the Historic Acadian Village of Nova Scotia.
Evening
Trout Point Lodge is the world's first Starlight Hotel and offers guided stargazing tours from their 360-degree viewing platform - one of the best places for astronomical observation in North America. The views are breathtaking and can sometimes include meteor showers as well as the Aurora Borealis. Use the Lodge`s telescope for an even better stargazing experience and receive guidance from the on-staff astronomer.
DAY 5
Morning
Spend a lazy morning joining one of the Yarmouth Foodie Walking Tours, featuring local beer, seafood, wine and sweets. A personalized tour of the Farmers` Market is also included in this tour.
Afternoon
To work off all the food you've just eaten, grab a paddle and a pint with East Coast Paddle Company on the Tusket River. Or, if you prefer a sing-song, Ellenwood Park Tours and Rentals offer guided kayaking tours of the Yarmouth Harbour for all experience levels.
Evening
Experience authentic Acadian music, dance and storytelling with authentic Acadian cuisine on the shores of Lobster Bay when you attend an Acadian Kitchen Party at the Argyler Lodge
WHERE NEXT?
From Yarmouth, you can either drive the 3 hours back to Halifax for the return journey home or return to Digby and catch the ferry over to Saint John, New Brunswick to start an adventure in another province.