Let's Change the Way People Travel!
Our founder has a big bold dream of a peaceful global society, a healthy planet and a WORLD filled with prosperity and vitality. During a Retreat for Impact Entrepreneurs, in Mexico, November 2018, she shared her vision and her hope that with your help Re-CreationWORLD can change the way we travel and inspire the social and environmental changes necessary to create this vibrant new WORLD. Now we share this message with you! Please join us...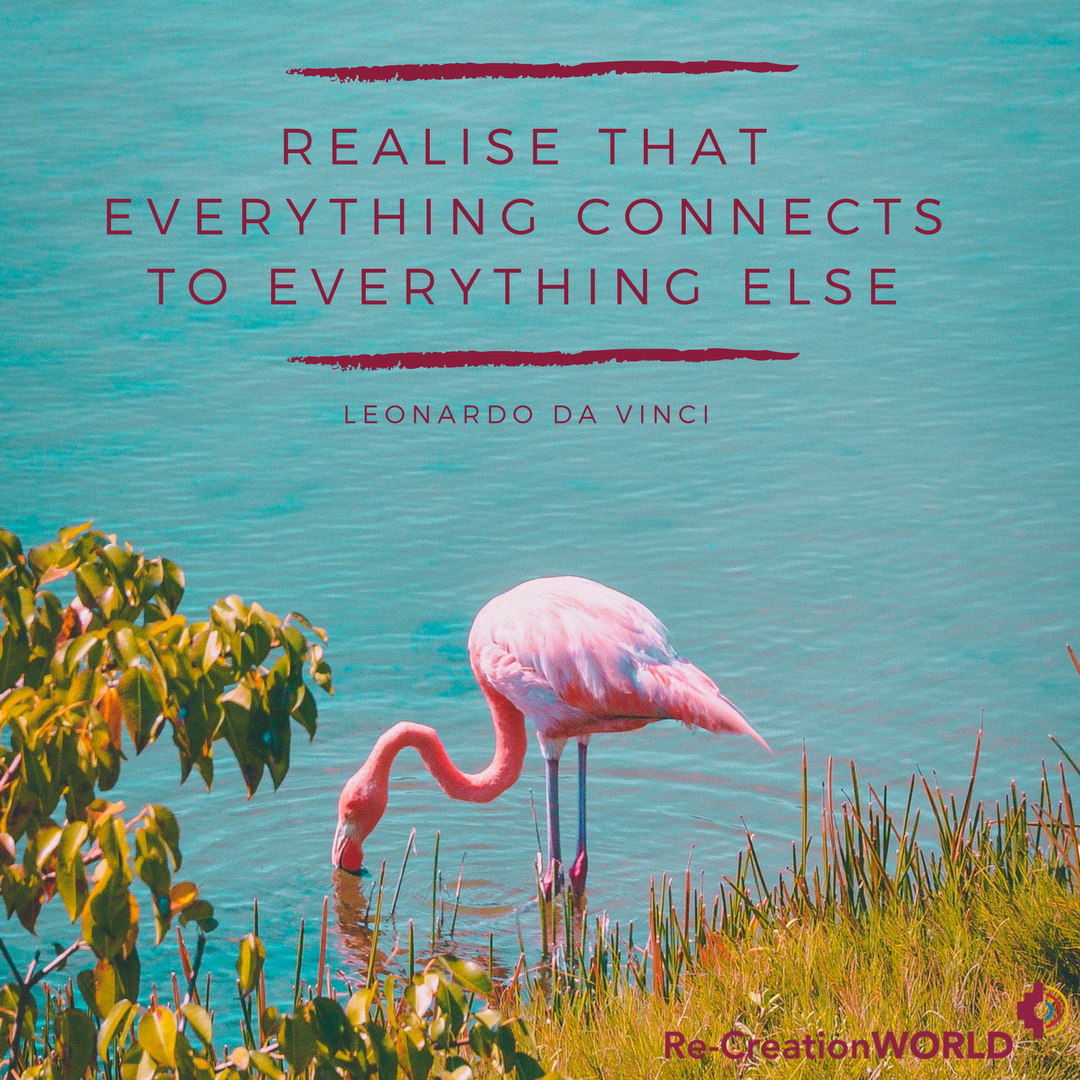 I'm going to speak to you today about my tourism business... Re-CreationWORLD - Travel That Transforms... But, more importantly about my belief and dream that travel can change our lives, help the planet and heal the WORLD.
I'll begin with a quote from Leonardo DaVinci ... "We are all Connected" ... An observation more profound and impactful today than ever!
Our science and technology have accelerated and magnified this connection...
Today we can connect with others anywhere on the planet in seconds. We have the opportunity to visit ancient sites in great numbers and connect with isolated villages, cultures and peoples. We contact more and more, and the impact is huge, yet due to our lack of awareness, we do greater and greater harm.
Our planet is in danger and so are our societies. We have lost sustaining environs and cultures... And forgotten traditions, art forms and earth-based wisdom. The growing consumerism of the past few decades has led us into a social, economic and environmental crisis...
So... it is time for mankind to step up and become part of the solution. We need to understand the impact we are having and make conscious choices. It is time for us to discover our better selves and use our time, money and abilities responsibly.
And... what better way to connect, experience, learn and discover the beauty, wonder and possibility in ourselves and in the world than through travel? Because travel done well... mindfully, respectfully and responsibly, changes you, it teaches you to dream new dreams that ultimately can change and heal the world.
I speak of healing the WORLD, and my business name is about re-creating the WORLD. I speak of the WORLD rather than the planet because I believe in a vision of both a healthy planet and thriving societies... A peaceful global society. The vision is greater than sustainability, it is about discovering, honouring and taking the ancient earth-based wisdoms, combining them with our new technology and creating a better more vibrant WORLD ... A world filled with prosperity and vitality.
So how does Re-CreationWORLD figure into all this and what is it about?
It is my dream... My big bold dream. It is my way to try to be a part of the solution by providing inspiration and connection that can bring us closer together in a positive way. It is my hope that in a small way I can make a difference.
It is an antidote for what is wrong with tourism, but also the "modern" society of today... Exploiting people, places and the planet for financial gain, false pleasure and entertainment... An antidote for "cheap holidays in other people's misery".
In its simplest form, it is a curated travel resource and trip planning website for people who prefer to travel responsibly, with purpose, using their recreation time to explore and make positive changes in their lives and in the world. It profiles and gives voice to local environmentally and socially responsible tourism companies that are making a difference... And it provides a way to book directly with those companies so that the $$$ flow into the local communities instead of the pockets of "big box" tourism agencies and online booking sites. (In case you're wondering you will get just as good a deal or even better when you book directly!)
It is a place to meet, for travellers to connect with experience providers. A place for travellers to recommend experiences they love and businesses to encourage travellers to join them and support their business. It is a place for conversation and to tell stories and celebrate success. It is a place for collaboration and joining together in sufficient numbers to influence how people travel... Because we can't do that alone.
This, then, is my call to action... Please join our community, add your voice, and let's come together to use tourism as an economic driver and inspiration for positive change... And for the health and wellness of the WORLD!