Tofino, situated in Canada's Vancouver Island, is a mecca for outdoor enthusiasts, nature lovers and foodies. We promise, it won't take much to persuade you to visit this idyllic corner of the world, but if you still need convincing, here are 11 reasons to visit Tofino and the Wild Pacific Coast.
"Winter here means dramatic skies, rain (sometimes falling sideways), impressive swell...and bursts of sunshine. Storm watching season is as much about the weather as it is about how frequently it can change. All you have to do is be present to witness it."
Tourism Tofino
1. Try Surfing
What better place to learn how to surf than in the surf capital of Canada. There are tons of companies offering lessons and rentals to help you dabble in the local pastime. There are lots of beginner-friendly beaches with smaller waves and, for the more experienced, there are lots of beaches to choose from - meaning it's never crowded. The best bit? Whichever way you are facing, you get stunning views. The horizon is scattered with the beautiful islands, and if you're looking to the shore, you'll be rewarded by a unique view of the stunning beaches.
2. Go Storm Watching
Boasting a more temperate winter than other parts of Canada (around 8 degrees Celsius), Tofino has recently engineered a nifty tourism initiative to attract visitors during the quieter seasons: storm watching. The Wickaninnish Inn is perfectly situated to offer magnificent 270-degree views of the wild coast or head outside to Cox Bay for the biggest waves!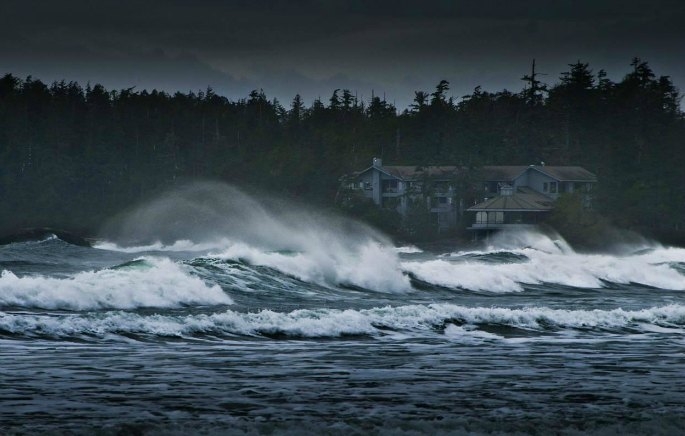 3. Appreciate The Unique Environment
Tofino's community is small but mighty. Existing in the unique UNESCO Biosphere of the Clayoquot Sound, the locals understand the importance of conservation efforts to sustain their very way of life. Many of the tour companies, such as Ocean Outfitters and Jamie's Whaling Station, use their excursions to educate visitors of the fragility of their unique environment, but also on how they are working together to preserve and protect it.
4. Taste the Local Flavours
Considering the size of Ucluelet and Tofino, the gastronomic scene is bigger than their humble size. Sample the most famous tacos in Western Canada at Tacofino or try your first Oyster at the Raven Lady Oyster Forte. Most local restaurants, such as Shelter, offer fresh, local seafood with other ingredients sourced from nearby in the province. Top it all off with some Tofino Coffee and you've had an authentic foodie experience.
5. Spot the Whales and Dolphins
You might be able to spot a few whales and dolphins from the shores along this coastline, but your best chance of seeing them is with a responsible whale watching tour. Both Ocean Outfitters and Jamie's Whaling Station offer an expert experience to see these wonderful creatures whilst respecting their rights and environment.
6. Sample the Beer
Stop into the tasting room of Tofino Brewing Company, a small-batch microbrewery, to try a selection of their yummy local beers. It's also served in most of the restaurants and bars in the area.
7. Hike the Wild Pacific Trail
Though not as extreme as the more famous trek on Vancouver Island: The West Coast Trail, The Wild Pacific Trail is still a fun scenic adventure. This easily accessible paved route splits into two main sections which can both be completed in a few hours.
8. Kayak in the Clayoquot Sound
A kayak tour with Ocean Outfitters is the perfect way to immerse yourself in the incredible UNESCO Biosphere of the Clayoquot Sound. This is the best way to go bear spotting in the remote inlets and islands.
9. Experience Indigenous Culture
T'ashii Paddle School offer's tours in dugout canoes - the traditional form of transportation for getting around on the west coast of Vancouver Island for thousands of years, making it a special way to learn about local indigenous history and rich culture.
10. Watch a Sunset
Head to one of the many beaches on the west coast of the peninsula for a jaw-dropping sunset with Tonquin, Lennard and Wickaninnish islands as a backdrop. We recommend the quiet of Mackenzie Beach for a bit of romance or the wide sands of Long Beach to catch the surfers hunting the final bits of daylight.
Have we inspired you to visit Tofino and The Wild Pacific Coast? Make sure you check out our 5-day travel itinerary for experiencing the best sustainable tourism the region has to offer!