Celebrating Culture and Supporting Tanzania's Isolated Maasai Communities
Guest Author Elsa Dixon, who hails from South Africa, shares some highlights from her recent tour of a small Maasai Village in the Ngorongoro, Tanzania with her local guide and community supporter, Jeremiah Ngoka. Her observations and insights help us to understand the importance of such cultural visits and responsible social interactions to these isolated communities who are struggling to maintain their traditions in a changing world.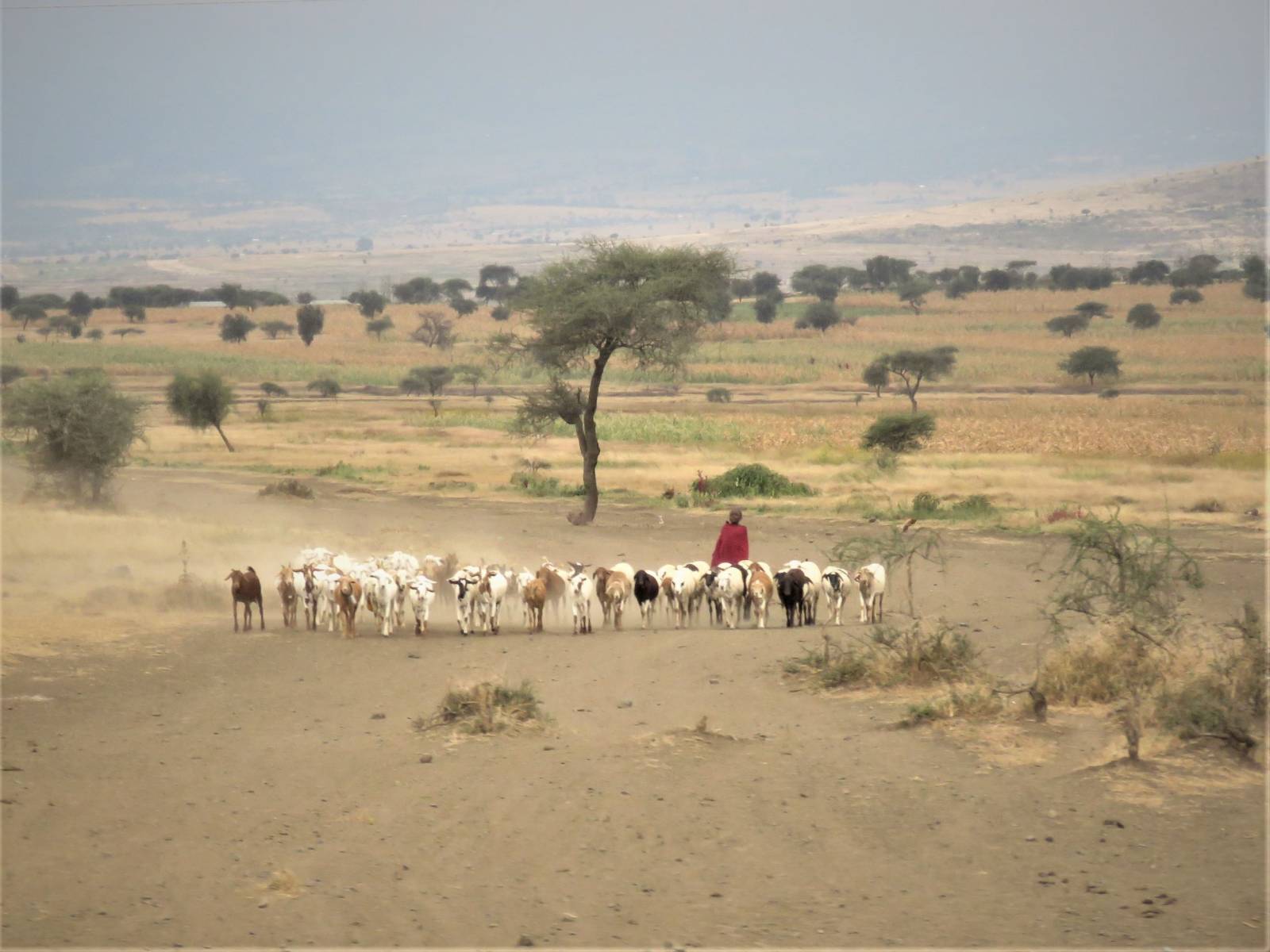 Welcome to the Maasai Village
The long line of Maasai, singing and clapping, cowbells and jewelry jingling, presents a heart-warming and vibrant welcome to begin our unforgettable visit to the Ngorongoro, Tanzania community to experience its traditions. Their bright cloths tied about their bodies flapped in the wind while they circled in long lines around each other. Before long, the excitement started to mount and the men and even some women challenged each other to excel at their characteristic high-jumping dance.
We were accompanied into this small, dust-ridden village of about 70 inhabitants by Jeremiah Ngoka, a local guide. The Maasai in this country were forced to move out of the Serengeti when it was declared a National Park and given rights to dwell freely in the Ngorongoro Conservation Area. This village was allocated a license by the Ngorongoro Conservation Area Management to welcome tourists as a means of earning income.


On the way
Life is hard for these isolated villages. On the way, when we stopped to have a picnic lunch, Jeremiah asked us to keep the food we did not want to eat so that he could distribute it to those we met along the road. And sure enough, we stopped a few times to hand out a bottle of water or a package of food.
We came across children as young as five tending livestock and hurrying to meet our vehicle in the hopes of receiving some water or a bite to eat. A group of young men, as well as some young initiates with faces painted black, also approached us.
Inside a local home
Jeremiah led us to the seventeen identical homesteads, each a mud-and-stick construction with a low roof and a very narrow entrance. Men and women have separate huts while the children stay with their mothers. After circumcision and the coming of age ritual completed, the boys become 'elders' and join the Maasai warriors.
The hut inside was smoky and dark, with the remnants of a cooking fire glowing next to the cramped sleeping area demarcated by sticks and skins. We each found a stone to sit on while the village chief, perched on an oil drum, greeted us. The chief usually owns the most cows and is elected by the other elders. He proceeded to tell us about the customs of the Maasai. Meat is the staple food since they farm with animals. Sometimes this is accompanied by a stiff porridge with milk or vegetables.
After the father and other adults have eaten, the children get a small share. Drinking water is hard to come by, and the cattle and goats need to be driven to find food and water. At times, people must buy water from trucks carrying tanks.
Although the outside world has begun to make inroads, particularly through internet connections, the people still follow the traditional nomadic way of life and centuries-old customs. Since the grazing lands are more restricted now, there are necessary adaptations, e.g., the Maasai do not burn the huts anymore when they leave since they know they will be returning soon.


The schooling
In this village, a square hut, constructed from scraggy poles served as a school at the Kindergarten level. Inside, fifteen children were seated on two long planks. The teacher was standing next to a blackboard on a stand. There appeared to be little in the way of educational materials. But there were happy smiles all around while they counted in their language and sang us a traditional song, enthusiastically clapping hands as accompaniment.
Jeremiah told us that young people who had been to school teach about three hours a day. The children were taught mostly their alphabet, numbers, and songs. The nearest primary school is about 90 miles away. What happens is that the villagers rent a house, pay for all the food needed, and appoint one person from the village to take all the eligible boys and girls there and take care of them for one school term.
Children get a rudimentary education until they are about eleven years old, when they traditionally begin their work as herders, fending for themselves all day. The young Maasai are now moving to cities where they find work, usually in the security industry. They are particularly suited for this career since during the traditional ceremonies to become warriors, they were well-trained in defence, became physically fit, aware of their surroundings, and developed quick reflexes.


Local crafts
The ladies of the village had in the meantime, displayed their locally crafted items, mostly beaded jewelry for us to peruse and hopefully purchase. Some of the women now sell to the big shops in town and near National Parks. They have come to rely on this income for survival.
Socially Responsible Tourism
The tour was an opportunity for us to interact with the local Maasai community. We saw their way of life and learned about their culture while at the same time, in a small but meaningful way supported their creative efforts.
There are no community centers in Maasai areas and only a few non-government organizations that support the villages. Visitors pay a direct entrance fee at the main Ngorongoro gate to visit the homesteads there. However, the Maasai villagers do not get any of this money. The people benefit only from the jobs directly created by socially responsible tourism efforts, such as hosting tours like this one we participated in.
As for all tours, it is ideal to choose to travel with a guide that has a close connection to the local community and is committed to making a difference, to ensure your tourism dollar has the greatest impact. In this case, our guide has a good reputation and makes a conscious effort to improve the lives of the people in the Maasai communities close to his home by contributing a percentage of the money from his business to help with projects such as building classrooms and distributing water to isolated villages. His tours create jobs and income for villagers by including activities such as having the ladies cook meals and demonstrate local crafts such as making beer from millet and bananas. We are most grateful to have had Jeremiah Ngoka, as our private safari guide.
Jeremiah Ngoka is working towards buying his own safari vehicle and expanding his business. He is determined to better assist the local Maasai communities and is convinced that his tours which encourage responsible social interaction can have a direct and positive impact on villagers' lives. To find out how you can support his initiatives and/or hire him as your safari guide in the Ngorongoro, Tanzania connect with Elsa Dixon via the links in her Authors Profile. She is also a great resource and can provide further guidance on planning explorations throughout Tanzania and South Africa.