Digging for Dinosaurs and Finding New Fossils
If you have ever been captivated by dinosaurs or have children who are, then we think you'll appreciate this introduction to Alberta's Dinosaur Provincial Park - one of the richest dinosaur fossil sites in the world. Perhaps you will plan for a diversion next time you are visiting Western Canada or make a stop here the main event of a vacation in Southern Alberta.
Our Founder grew up close to The Park and went fossil hunting as a kid, so nothing excites her more than the idea of participating in an authentic dinosaur dig and sharing the opportunity with the world...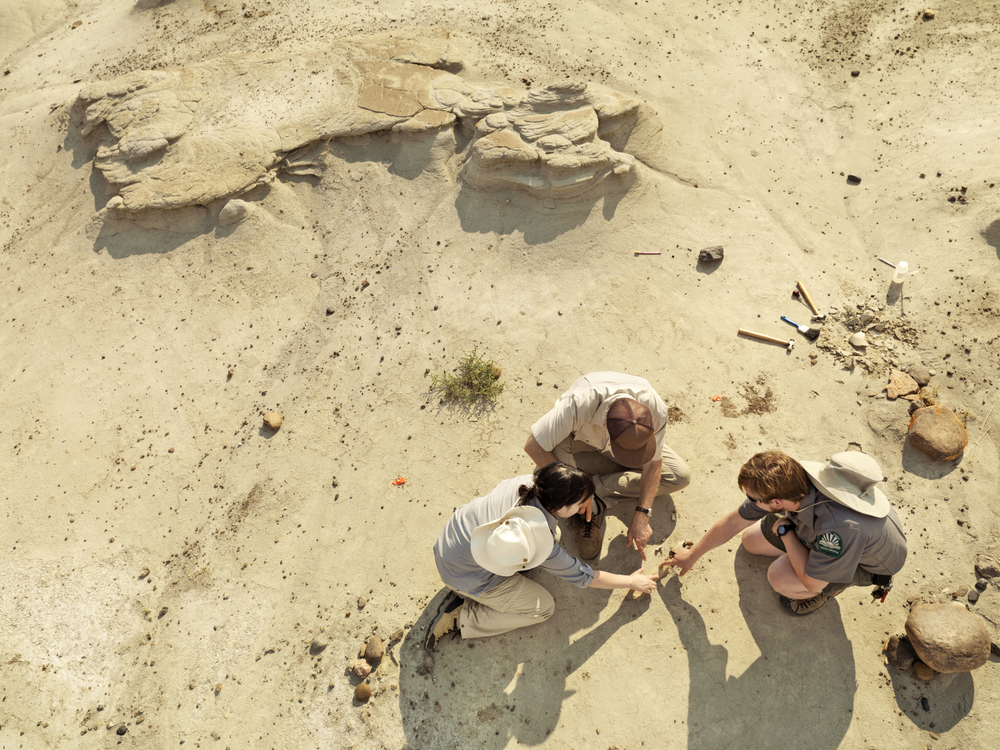 The world-renowned Royal Tyrrell Museum of Palaeontology in Drumheller, Alberta is a highly and often recommended Southern Alberta tourism activity. But, Dinosaur Provincial Park, the source of the specimens in the Museum, is a two-hour drive away and still a reasonably well-kept secret. The Park was established in 1955 and in 1979 was declared a UNESCO World Heritage Site in recognition of the abundance (over 400 dinosaur skeletons discovered) and diversity of dinosaurs and other vertebrate fossils found there.
Dinosaur ProvinciaI Park is where the down and dirty hands-on dinosaur discovery fieldwork happens. It also hosts a great number of experiential and learning programs as well as dinosaur bone displays "in the wild". The programs cater to every age and level of enthusiasm but the ones we want to highlight are the 1, 2 and 3 day Guided Excavations ($180, $500 and $700 respectively) for those over 14 years of age and the approximately 2-hour Fossil Safari for families with dinosaur-loving young children ($20/Adult, $10/Youth, $7/Child, $2/Baby, $54/Family).
On the Guided Excavations you will participate in a real palaeontological excavation. Your work is on a research project for the Royal Tyrrell Museum in an active quarry prospecting for and uncovering new fossil finds. An expert paleo tech will guide your work and teach you what to look for and the techniques required to excavate dinosaurs. Just think - you might unearth a new species!
The Fossil Safari is an excellent alternative for those not wishing to venture so far into The Badlands. It is still a wonderful learning experience, teaching the secrets of fossil-finding and how to identify dinosaur bones. It is a hands-on experience, but no actual digging is involved and, of course, all the fossils are returned to their spot at the site.
If you decide to go: Basic accommodation and meals are provided on-site for the multiday Guided Excavations. For those attending any of the shorter programs, Dinosaur Provincial Park has campsites, comfort-camping furnished walled tents and a facility called the Cretaceous Café that has a restaurant, groceries and camp supplies, bathrooms and showers, and a laundromat. You will want to plan well in advance and reserve both your program tickets and if desired camping accommodations.