Cultural Celebration - Fiesta Grande de Enero, Chiapas de Corzo
What's the legend behind the cross-dressing, money tossing, candy and tequila sharing, gaiety and dancing spectacle that is the Fiesta Grande de Enero Parade? Guest author Jo-Anne Bowen shares this and her thoughts on homestays and friendship with us. She immersed herself in the community, culture and traditions of Chiapas Mexico while staying with a local family as an Ambassador of Friendship Force International. Friendship Force is a 'non-profit cultural organization whose programs bring diverse people together into each other's cultures and homes to share one-of-a-kind experiences not available to regular tourists'. We especially like and support this organization as we are aligned in the idea that by connecting and learning when you travel you ultimately help make the world a better place. Here is Jo-Anne's story...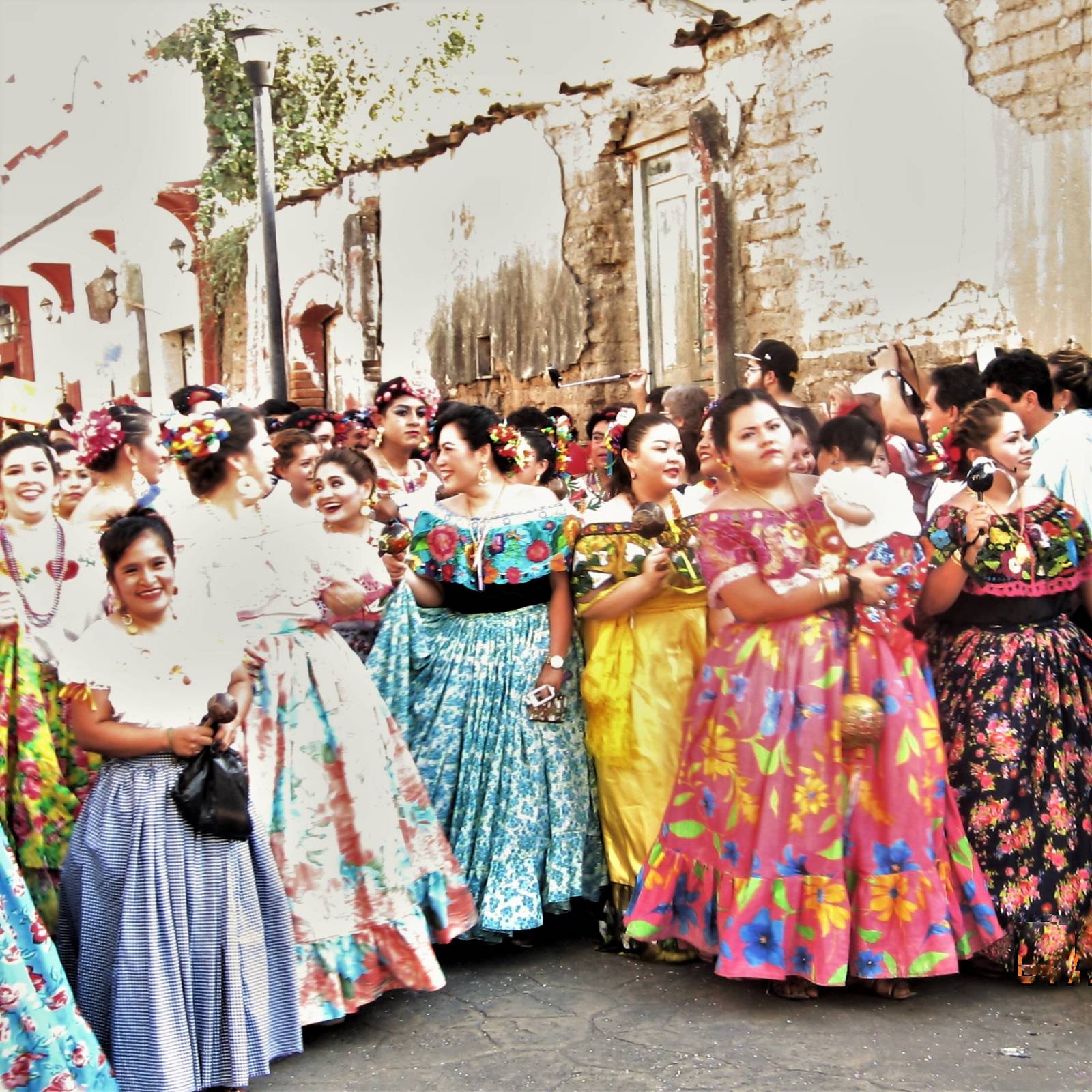 In January, I lived with a family for a week in the city of Tuxtla Gutierrez in Chiapas State. Located in Southern Mexico, the state shares a border and cultural heritage with Guatemala. Traditions, festivals, and legends are a very important aspect of everyday life in this part of the world and my homestay family was proud to share the experiences unique to their home state. Luckily, my visit was timed perfectly so I was able to participate with my hosts in the Fiesta Grande de Enero which is only held in Chiapas de Corzo. a small town about ten miles (15 Km) from Tuxtla. This annual festival is considered one of the most important cultural festivals in Mexico. As such, UNESCO has honoured the celebration as an Intangible Heritage of Humanity.
Celebrations continue for one week, culminating with the final parade honouring the legend of Dona Maria de Angulo. Understanding the legend helped me to fully appreciate the importance and the nature of the parade. Dona Maria de Angulo was a wealthy Spanish woman, who several centuries ago, came to the area to find a cure for her ill son. For nine days, she bathed her son in the local waters, and he was cured. Several years later the town suffered a terrible crop loss which led to conditions of severe famine. Dona Maria returned to Chiapas, when she heard the sad news, and distributed food and money to the people.
Four groups of incredibly vibrant characters - Parachicos, Chuntaes, local citizens dressed in traditional clothing, and honorary Dona Maria de Angulo - participate in celebrating and interpreting this story during the parade.
The Parachicos represent the local people who dressed up and danced to entertain the son (hence the name "for the boy" - "para chico"). Their primary purpose was to make the child laugh. Their costumes consist of wooden masks with European features, a tightly fitting hat made of natural fibres representing lighter coloured hair, and a Mexican style serape. These articles, especially the masks are prized as native folklore artforms.
Local legend tells that the Chuntaes were the maids of Dona Maria. They distributed food during the famine. In the parade, young men cross-dress as Chuntaes wearing white blouses with colourful embroidery and long multicoloured skirts. Their makeup is exaggerated - with bright red lipstick and heavy eye makeup. Chuntaes pass out candy, vegetables and shots of tequila to onlookers in a festival of gaiety, dancing and sharing!
Residents beautifully dressed in their traditional costumes continue the celebration. There are over 200 traditional costumes in this area so the streets are filled with variety and colours that are a feast for the eyes! We were delighted to see many families with small children marching in the parade as it is their special way of passing down tradition.
The final float was the young woman chosen as "Dona Maria de Angulo" who threw coins to the onlookers as per legend of the benefactor. Adults waved with respect and young children scrambled to collect all the coins they could.
Being welcomed by and sharing experiences like Fiesta Grande with a local family brings a wonderful new perspective to one's travel and to the destination they call home. My hosts were so kind and genuinely shared their life so that I came away with a new appreciation of the beautiful natural environment of Chiapas State and of Mexican culture and traditions. They also demonstrated that a homestay such as this is a great way to build lasting friendships and understanding throughout the world. My Mexican host's farewell words brought joy to my heart, "You are now family and are welcome to come back anytime". I hope to return to visit my new friends soon!