Profile Feature: Tours + Experiences, Banff, Alberta, Canada
For 10 Days every July the city of Calgary, Alberta, the gateway to the Canadian Rockies, puts on its white cowboy hat and celebrates it's pioneering, ranching and First Nations history and culture with a "wild western spirit of adventure" by hosting the world at the "greatest outdoor show on earth": The Calgary Stampede.
With this as inspiration and our current focus on responsibly visiting Canadian Rocky Mountain Parks, this feature recognizes a truly historic, authentic and enriching Western Canadian Rocky Mountain Outdoor Experience that will surely excite your inner cowgirl or cowboy. We are proud to recognize Trail Riders of the Canadian Rockies (TRCR) and their offering of a full submersion into cowboy culture, horseback riding on the trails of the original explorers of the Canadian Rockies and backcountry wilderness camping.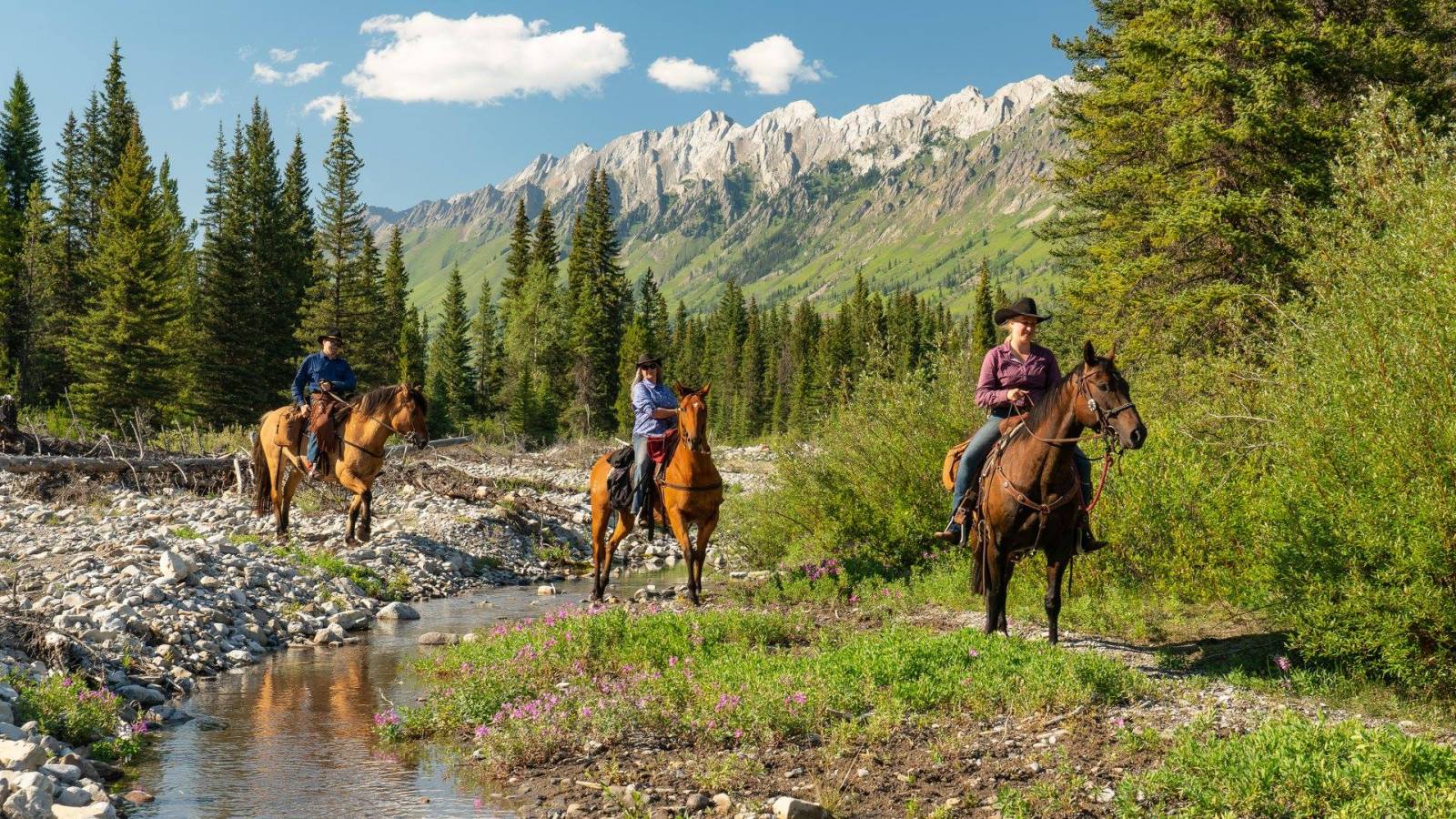 The Trail Riders of the Canadian Rockies is a 95-year-old not-for-profit riding club celebrating the history of the Canadian Rocky Mountains and carrying on the tradition that started with their first camp in the Yoho National Park in the summer of 1924. Rides every summer since then have explored different areas of the Rockies, often following trails that the group originally carved in the 1920s. In this summer of 2019, they return to a spot last visited in 2014, the Cascade Valley in Banff National Park.
What they offer is a unique escape and a wondrous way to explore and fully appreciate the peace, contentment and grandeur of the mountains. This is not a replicable cowboy culture or "wild" nature experience packaged in tourist attracting one hour to one-day outings. This is a real deal six-day trail ride and journey far into the pristine wilderness of the Rocky Mountain backcountry beyond where one can comfortably hike or even mountain bike. It is days filled with learning, wilderness encounters and spectacular landscapes and nights enjoying hardy cowboy cuisine, campfires, fun with new friends, cozy tents and incredibly peaceful sleep.
No need to worry if you are not a regular trail rider. Tenderfeet are appropriately matched with a novice tolerant horse and welcomed into the group along with the experienced riders so that by the end of the trip you will be a seasoned rider and forever bonded with your trusty steed and trail companion. The horses are well cared for and expertly trained to deal with wildlife encounters and the challenging high mountain terrain such that they can guide riders of all levels of experience out of their comfort zone and into a rewarding and unforgettable once-in-a-lifetime-experience.
Re-CreationWORLD congratulates Trail Riders of the Canadian Rockies on their outstanding legacy and commitment to responsible tourism and environmental stewardship in the Canadian Mountain Parks and encourages our community to support this wonderfully historic club and its sister organization Skyline Hikers by becoming members and of course joining their trail rides and hikes. Review these TRCR and Skyline Hikers profiles and follow the links to their websites for more historical insights, further information on current offerings and to book your next Rocky Mountain backcountry adventure.