A Unique One Day Tour of Quito!
So... you've booked your tour of the Galapagos and have a couple of days in Quito before your flight to the Islands. You did plan a short layover - to account for flight delays or so your lost luggage can find you before your one chance to connect with your boat tour - didn't you? Here are suggestions for spots to visit in Quito along with some of our favourite things to do that don't all hit the usual Quito tour list. You will also find some "oh wow who knew" perspective on some awesome places that most visitors see as just another mundane tour stop.
Freshen Up at the Hotel Breakfast Bar
Chances are that your hotel will have a beautiful, inviting and mysterious display of fresh fruit and juices for breakfast. Indulge freely with no worries - Ecuadorians take cleanliness and fruit washing seriously - so go head and sample from the tower of fresh local strawberries or enjoy an exotic fresh juice, like tomate de arbol - tree tomato, guanabana - soursop, or maracuya - passion fruit. If you are lucky you will be able to taste, the increasingly rare, Ecuadorian pineapple, which looks like any other outside but is creamy white inside, tender and oh so delicious. [Note: do NOT drink juice or eat cut fruit offered by street vendors - in these uncontrolled conditions contamination is likely despite good intentions.]
Tour Old Town Quito - The First UNESCO World Cultural Heritage Site
Hop on the "Hop On Hop Off" Quito Tour Bus, wander out of your hotel or grab a taxi - they are very affordable $2-$5 if you settle the price before getting in - and head down to Old Colonial Quito. We recommend meeting up with the free walking tour which leaves from the Community Hostel and provides a local's perspective on this amazing sector of the city and the traditional way of life on La Ronda street. [Don't forget to generously tip the guide]. Once you finish the walking tour, hop on the bus and continue up to El Panecillo to marvel at the city view and construction of the modern representation of the famous "Virgen de Quito", the unique winged dancing Virgin Mary conceived by Bernardo Legarda in the 17th century.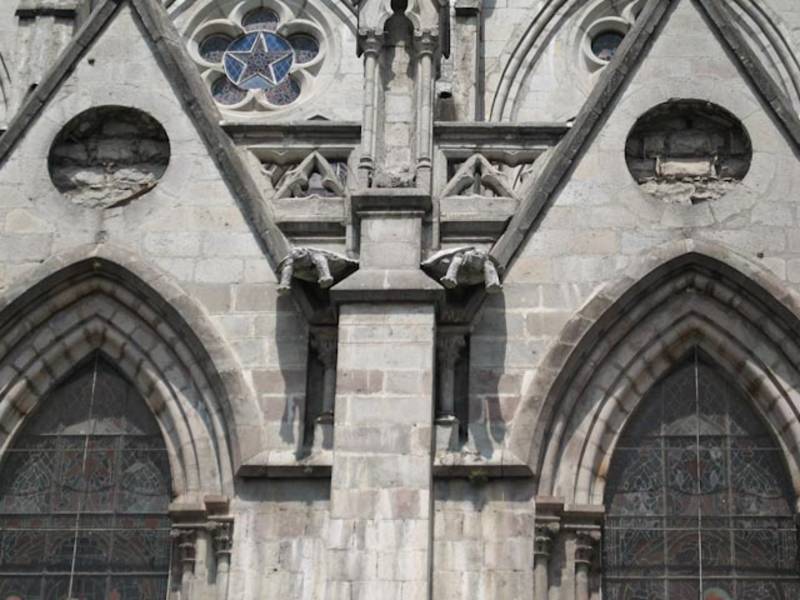 Animals & Quiterian Art at the Basilica
Most tours of Quito will stop at the Basilica, the largest church in the city known for its gothic architecture, a commanding view of the city and picture-perfect framing of the Panecillo from the tower. However, often the guides fail to point out the most interesting feature...the gargoyles decorating the exterior are all animals native to Ecuador, including tortoises, pumas and monkeys. Here and in much of the colonial architecture in Quito, you will see examples of the indigenous labourers and artisans incorporating their values and culture within the European Renaissance and Baroque styles. This unique combination of Spanish and Indigenous art was developed at the Church sponsored Quiterian School of Art and is one of the primary reasons for UNESCO declaring Quito a World Heritage site in 1978.
Lunch Like a Local
Ask for directions to the closest Los Cebiches de la Ruminahui (that's not in a shopping mall). We'd suggest the Av. Republica del Salvador and Av. Portugal location, which is one long block south of the Quito City Tour bus stop #1 and will set you up nicely for the next discovery point. Los Cebiches was started by an enterprising man who once sold his special cebiche from a pot on a Quito street corner. The popularity of his offering allowed him to eventually franchisee his recipe and business. Although, not as quaint as it once was, this is still a great option to try local style cebiche. If you are not a big seafood fan or you prefer your fish well cooked, try the cebiche de camaron (the shrimp is fully cooked first) - our favourite and the most traditional. The most fun part of the dish is the popcorn and tostadas - toasted corn - that are a must-have accompaniment and are intended to be liberally dumped into the bowl of cebiche.
Indulge - Roses, Chocolate, Pastries and Coffee
A short stroll across the street and down Av. Portugal, past the brilliant flower tiendas, will take you to Cyrano, one of the most prestigious bakeries in Quito. Purchase one or two of their exquisite pastries to take to the adjoining café, Corfu. At Corfu, you can enjoy a coffee served with chocolates made on site, or enjoy a dessert crèpe if you did not find a pastry to your liking. Find a spot on the sheltered patio and see if you can dream up an excuse to buy 25 vibrant long-stemmed roses for $5 or a bag of the chocolates you just sampled.
Shop Mercado Artesanal La Mariscal
Mariscal is the sector of the city known as "Gringolandia" - the land of the tacky tourist - so yes this is a typical tourist market. But if you have only one day in Quito and no time to visit the more famous Indigenous Market in Otavalo then this is a great place for souvenir shopping and this market does offer a unique atmosphere and something not found in Otavalo - body piercing stalls. You are expected to barter, but please, as a responsible tourist don't be cheap - these people need to make a living. Consider reducing your price per article by negotiating on volume - your friends and family will appreciate your generosity! Keep in mind this is about having fun and supporting local entrepreneurs. If you want to purchase authentic Ecuadorian handicrafts of value, including real alpaca fabrics, try Olga Fisch Folklore.
Dining at Dusk
Several options are available to have an evening to remember while tasting typical culinary specialties and enjoying a Canelazo, a traditional drink that will take the chill off the cool Quito night air.
If you wish to experience the beauty of Old Quito at night, consider Casa 1028, an upscale mobile restaurant that travels through the old town, serving traditional food and entertaining with ancient legends.
For an exceptional view head up to Café Mosaico to enjoy the sunset and watch the city light up. Reserve a table and a private cab ride to ensure you get a front row spot out on the balcony. The atmosphere is eclectic so no need to dress up for dinner, but dress warmly and bring an extra warm layer, perhaps the sweater or wrap you purchased at the market.
If you wish to finish your day on a very high note - ZaZu is guaranteed to live up to its reputation as the best restaurant in Quito and you will be delighted by all aspects of the dining experience. While featuring traditional Ecuadorian food, ZaZu represents all things modern and cosmopolitan about Quito. It continues the blending of European and Ecuadorian culture that is so uniquely Quito. Here you will be in contemporary Quito, where everyone loves to dress with style, so pull out the most elegant attire you have in your travel light collection for this special occasion.