Awe-Inspiring Experiential Adventures
These unique Rocky Mountain "sightseeing" experiences all require you to leave the pavement and the crowds behind, heighten your senses, connect with the earth and fully live every awe-inspiring moment. Guiding you on these journeys and helping you to connect with the land will be local people that all share a deep love for, and dedication to responsible stewardship of, these mountains. They will challenge you to live full out and learn more about yourself and this majestic place.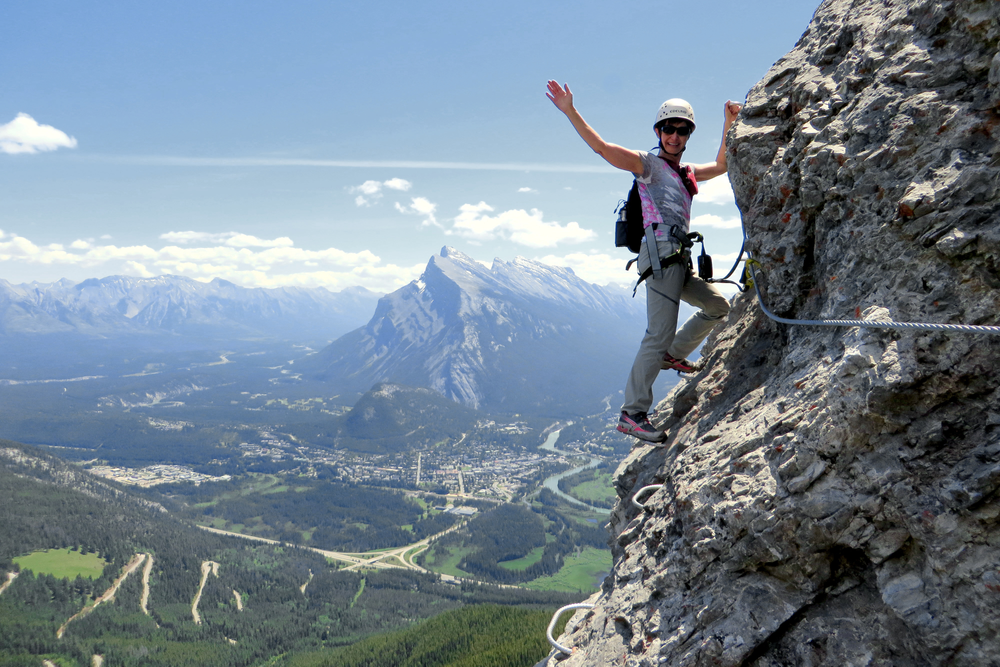 1. Hang on the Edge of a Mountain
Why settle for the view from an over-crowded and over-hyped glass walkway or gondola ride when you can push yourself to the edge of your comfort zone on Mt Norquay's Via Ferrata "iron road". Your adventurous spirit will love the exposure, exhilaration and breathtaking views of the Canadian Rockies offered on all of the four possible routes of this assisted climbing experience. No climbing experience is necessary, just a good level of physical fitness and a sense of adventure. You will be with an experienced and certified mountain guide, firmly and safely attached to the mountain - but no need to mention this in the I-can't-believe-I-did-this-I'm-on-top-of-the-world Instagram posts.
2. Bike or Run the Icefields Parkway
Though technically you don't completely leave the pavement for this experience, you do leave the motorized climate-controlled vehicle behind so you can fully experience the spectacular landscape of glaciers, lakes, rivers, waterfalls, and wildlife along this high mountain route between Jasper and Banff. Mountain Madness Tours runs a number of scheduled 4-day tours each season with either a hostel or hotel option (we'd pick the hostel option for a more basic but more authentic experience and chance to connect with fellow travellers). For groups of 6 or more, they can, at your request, build and host a customized tour.
Is running your passion? Consider joining a team for the Banff Jasper Relay. As a participant, you will support a great cause, have a fabulous fun time, make new friends, see stunning scenery and enjoy a homestyle dinner with local craft beer as your reward - a winning combination for any tourism experience!
3. Take an Ice Walk on the Columbia Icefields
Discover the Athabasca Glacier on a professionally guided exploration hike with Ice Walk Tours. The experienced guides know the glaciers of the Columbia Icefields intimately and share their knowledge of the impact the moving ice has on the land, surrounding ecosystems and our lives. It will be a much more interesting, rewarding and environmentally responsible experience than the alternative option: driving on the ice in a well-travelled circle, in one of many crowded snow coaches.
4. SUP or Take a Cool Dip in a Mountain Lake
While the glacier-fed high alpine lakes such as Lake Louise and Moraine are way too frigid for swimming, the smaller valley lakes are warm enough in July and August for a quick swim. Johnson Lake near Banff and Herbert Lake near the Lake Louise Townsite are popular spots for the locals to sun, picnic, swim and try some stand up paddleboarding. Johnson Lake even has a beach and a rope swing in a not-so-secret location.
Bow Valley Stand Up Paddleboarding, operating out of Canmore, can rent you a board and outfit you with essentials. A PFD (life jacket) must be worn in these waters. Besides rentals, they offer recommendations, lessons, and a variety of tours that can help you safely capture the magic of a sunrise, sunset or moonlight paddle at an iconic location in the mountains.
5. Connect with the Mountain Landscape as a Photographer or En Plein Air Artist
What better way to experience and capture the vibrancy and spirit of the mountains than through photography and painting?
Banff Photo Workshops & Tours offers private tours into breathtaking locations timed to capture magic moments in perfect composition, even on the most challenging days. Just be prepared to get up early or stay up late! Dani is passionate about both this environment and photography and can help beginner and advanced photographers discover the special nuances of her favourite spots in the Canadian Rockies.
Another great local business that can get you in touch with your "Mountain Muse" is Earth & Pine Outdoor. They organize nature and natural history discovery hikes, night photography sessions, and offers several workshops with Patti Dyment an established En Plein Air artist. Patti has a profound appreciation for and connection to the mountain landscape and enjoys the adventure of painting outdoors. Her workshops are a journey into nature and a guide to capturing the spirit of the location within your own masterpiece.
Before you go, stop by the Whyte Museum of the Canadian Rockies, in Banff, to discover the cultural heritage of a place "where peaks and people meet". Here you can find inspiration in Byron Harmons early 1900s photographs of outdoor life in the Rockies and from the works of Banff artists Peter and Catharine Whyte.
6. Take a Hike with a Naturalist and Interpretive Mountain Guide
Great Divide Nature Interpretation will take you on a guided hike in the heart of the Canadian Rockies, sharing their knowledge of the flora and fauna and stories that bring the area to life. If you have a particular mountain phenomena or geography that you'd like to experience, such as the colours of the alpine meadow larches in the fall, they can design a hike and gain access to special areas you as a visitor wouldn't find on your own.
Earth and Pine, mentioned above, also do small group interpretive hikes in the Canmore area to the stunningly beautiful and culturally historic Grassi Lakes.
Looking for a nature discovery hike especially designed to rejuvenate body mind and spirit? Connect with Ronna from Forest Fix who is a Certified Mountain Guide, Naturalist, Hatha Yoga Instructor and Nature and Forest Therapy Trainer, and sign up for her mountain EcoYoga experience.
This list is really just the beginning - there are so many ways to experience and appreciate the beauty, wildness and grandeur of Canada's Rocky Mountains. There are mountains to climb, rivers to kayak, glaciers to traverse, backcountry to explore and we haven't even ventured far from the vicinity of Banff and the Bow Valley and Icefields Parkways nor have we mentioned all the great things to do in the winter. Watch for the next edition of unique Rocky Mountain experiences where we take you far off the "tourist highways" and introduce adventures deeply ingrained into the mountain-way-of-life. If you have tails to tell, favourite experiences to suggest or experience providers you think we should profile and share with the world - we'd love if you'd share your comments below.