Sustainable Oysters and a TreePOD Adventure
Guest Author Sandra Phinney escapes to Prince Edward Island and introduces us to a perfect getaway for those who love fresh oysters and appreciating nature, no matter the season.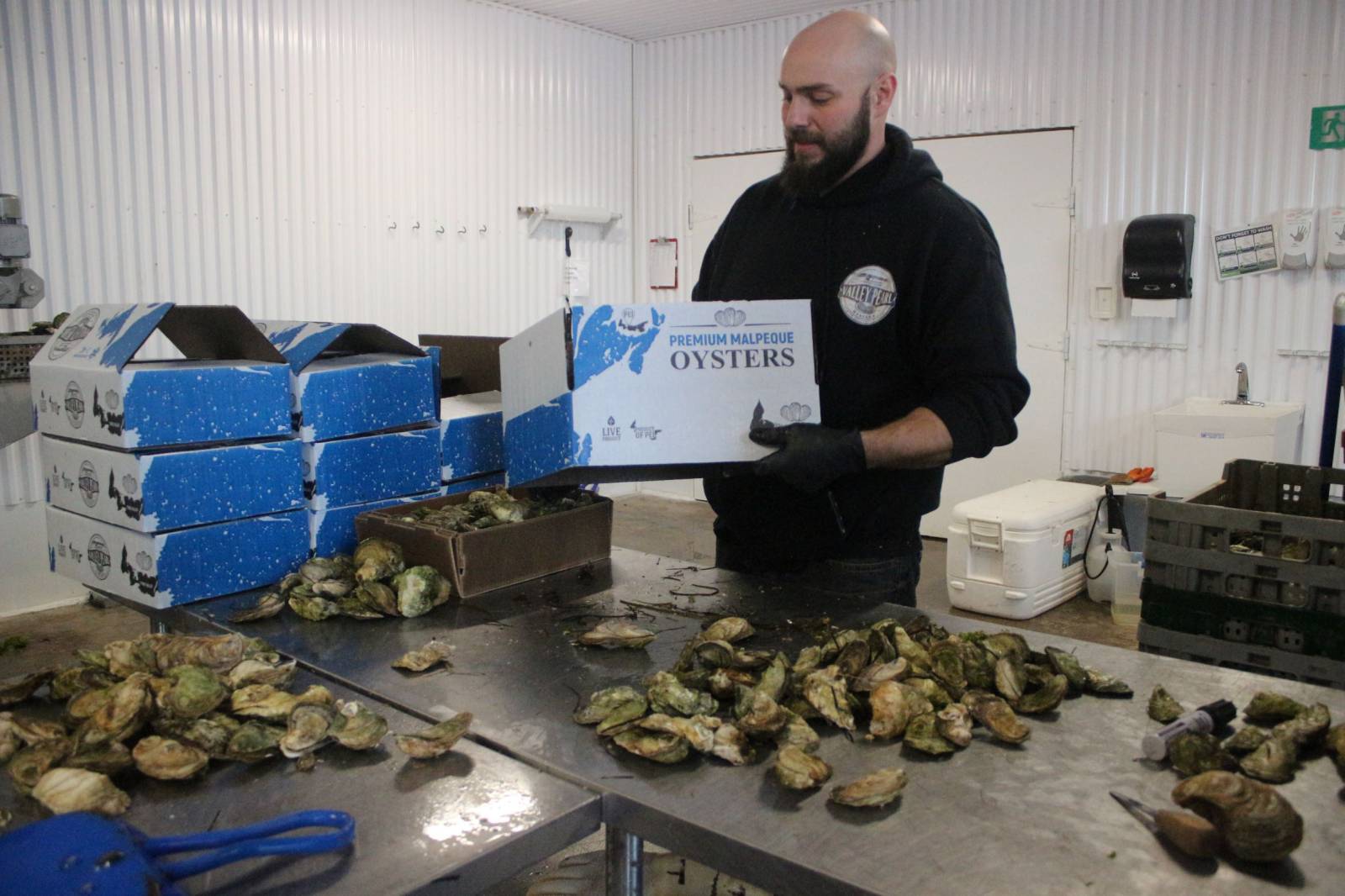 Meet Jeff Noye and Damien Enman, co-owners of Valley Pearl Oysters located in Tyne Valley, Prince Edward Island. Their vision is quite simple: they want people to love oysters as much as they do.

At Valley Pearl Oysters, these bivalve molluscs are harvested the old-fashioned way, in small boats using tongs (long wooden poles with wooden "grabbers" at the end). Once the oysters arrive in the processing plant, they are cleaned, sorted, and each one is photographed for quality control by a special machine before they are packaged for shipping. Pretty high tech stuff juxtaposed with traditional ways of harvesting.
A cold snap had prevented us from going to the shore to see how they are harvested but we thoroughly enjoyed a tour inside the plant. Jeff also explained that a few months ago, the company added an oyster bar above the plant. Would we like to try some?
Along with serving some straight from the shell, he baked a batch topped with a dob of bacon/onion/brown sugar/balsamic vinegar jam (his own recipe) and a sprinkling of goat cheese. Lucky for me, oysters are not high on my husband's favourite foods list so I had the pleasure of eating most of his as well.
This coming summer, visitors will be able to sign up for Tong & Shuck experiences to help with the harvest, learn about the oyster industry, and fill their bellies with these delectables.
And, where would one stay, you might ask?
Barrie and I enjoyed a new-to-us experience in a TreePOD (a cross between a tree house and a geodesic dome situated on a high platform in a grove of trees) at Treetop Haven in Mount Tryon. This delightful find is the brainchild of Sheila Arsenault, a single mom and Red Seal Electrician from PEI who worked mega-hours out West. Yearning to have more time with her young daughter, they returned to Mount Tryon. Sheila - who also has a diploma in Travel & Tourism Management - went out on a limb to create Treetop Haven. (No pun intended. Well, maybe.)
As well as encouraging simple pleasures such as hiking and forest bathing, Sheila also operates the onsite Nest Venue Centre - a large indoor space that can be used for weddings, family reunions, and group retreats.
Here's the thing: aside from spending time at Pearl Valley Oysters, Barrie and I also scooted around to other places. (Too many to write about this time 'round!) Suffice to say, when we returned to our TreePOD around 10 p.m. I was tuckered out. Climbing up the steps, I noticed a hot tub on the corner of the deck and thought to myself, "What kind of fools actually get into a hot tub on a sub-zero night?"
Whatever possessed me shortly after 10:30 p.m. to strip and step outside in -10 C weather and shiver my way into the hot tub, I'll never know. (When I invited Barrie to join me, he just rolled his eyes and kept reading his book.)
The distance between the door of the TreePOD and the hot tub was less than 20 feet but I remember thinking, Sandra, this is idiotic. Did you leave your brain back home?
Then it happened. As I slithered into the warm water up to my neck and snowflakes zigzagged aimlessly from the sky, words like 'bliss' and 'nirvana' came to mind. Within a few seconds, I was settled into a contoured seat, cocooned in warmth. With only my face exposed to the night sky, I stretched and let out a long sigh. "Ahhh. I get it," I said to myself - and proceeded to fall asleep.
I woke up an hour later, hungry for a plate of baked oysters.