Lodge Culture and Hospitality in the Canadian Rockies.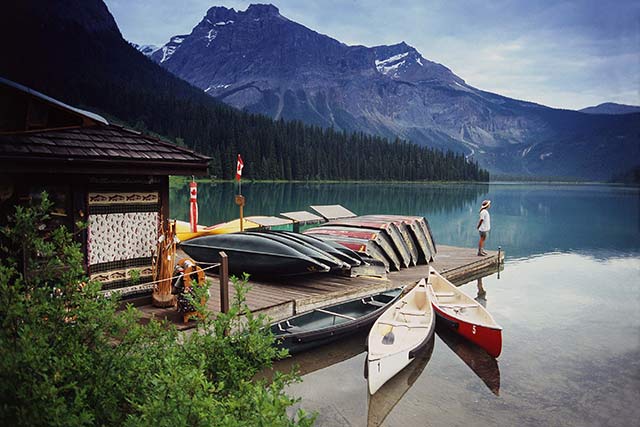 Lodge culture is synonymous with mountain culture in the Canadian Rockies, a history that dates back to the establishment of the Canadian Pacific Railway. The company built a number of lodges throughout the remote region to accommodate the growing tourism that the new railway brought to the area. Though many of these historic lodges still operate today, serving up authentic backcountry hospitality, there are a number of equally unique new lodges situated south and west of Banff, in and around Yoho and Kootenay National Parks. Together, these lodges offer a special way to enjoy this wilderness, whilst minimizing the impact on the fragile environment they're lucky enough to be based within.
Over the last 30 years, the owners, Brian and Annette, have worked really hard to build this spiritual wilderness retreat and have decades of experience as outdoor guides in the area. "We encourage people to leave their technology behind, come and re-calibrate ...and re-tune back to Mother Earth. We hold the opportunity for you to experience SOUL Tourism!". Home to greenhouses, chickens, compost piles and solar panels, they seek to be sustainable in all that they do. They also try to provide accommodation to people of all financial means, with a range of retreats available for all budgets.


Not only does this beautiful off-the-grid eco-resort generate its own power but once they've driven here, guests are encouraged to stay in harmony with nature and only walk, canoe, hike, or ski to explore the surrounding magnificent Kootenay mountains. Many of the cabins, the heating and much of the furniture is all created using salvaged wood from the surrounding forest. Their cabins - historic log to magestic new timberframe - accomodate a variety of group sizes up to 13 persons and meal catering is available for those who wish to simply relax and heat, toss and serve wholesome mountain cuisine. They host a number of adventure camps and offer daily guided tours, throughout the seasons.
Just over the border in Golden, British Columbia (but on the same time zone as Alberta, not to get confusing!), is the comforting Home Lodge. This is a bed and breakfast with two capital 'B's because both the beds and the breakfasts are amazing. Lynn, the host, keeps bees on the farm, making marvellous honey which you can sample over her beautifully cooked breakfast with freshly baked blueberry muffins. Guests from all over the world eat together around a large family table making breakfast conversation full of plans for the day's adventures. If you want to explore and enjoy the great outdoors, Kicking Horse Ski Resort and Yoho National Park are only a few minutes drive away. Equally recommended, is grabbing a book from the well-stocked guest library and cozying up in the snug, or heading out to the hot tub to gaze at the mountains right on your doorstep. They have all the amenities for worn-out explorers: barbeques, a stunning deck, open fire, movie room and dedicated places for drying your wet and muddy gear. There's even a few Highland Cows from Scotland to spot in the garden.


Another stunning lodge that the Canadian Pacific Railway originally constructed almost 100 years ago, this place offers rustic, historic charm. All the food you eat is cooked and baked in house by current owners, Greg & Meredith Chatelain, using local ingredients - a humble, but authentic experience of cuisine in the Rockies. This is the perfect base for exploring the lesser-visited Kootenay National Park - you won't be seeing coaches of tourists around here!
Emerald Lake, named after the crystal colour of its water, is accessible by road all year round, making it a really popular stop off for tourists (although fortunately not as popular as nearby Moraine Lake and Lake Louise). Staying at the lodge offers the opportunity to more fully experience the area's many high alpine day hikes and the quite bliss of a mountain night, once the sightseers and day trippers have left.
The lake was discovered 130 years ago by the legendary guide, Tom Wilson and Emerald Lake Lodge mirrors this life of exploration and deep history. For example, the lounge features an oak bar salvaged from a 1890's-goldrush-era Yukon saloon.
Canadian Rocky Mountain Resorts, who own Emerald Lake Lodge, source all game meat in their restaurants from their own sustainable, hormone-free ranch located in the rolling mountain foothills near the city of Calgary.


Field is a gorgeous little hamlet on the road from Lake Louise to Golden. It's the only town in Yoho National Park. Being such a small place, accommodation is hard to come by and, if you're lucky enough to book a room at the Truffle Pigs, you'll definitely have a cozy night to rest from your day's explorations. We like that they have two rooms with a kitchenette for those who are self-catering or wanting to prepare picnics, but it would be a shame to miss out on the delicious food from their bistro. Field is the starting point for the hike to see the world-famous Burgess Shale Bed (Canada Parks has a limited amount of permits available for this hike each year to protect these fragile fossil beds).
As one of the most famous hiking destinations in the world, Lake O'Hara is infamously hard to access. For most people, you either bag one of the few backcountry camping spots, one of the even-harder-to-get bus tickets for day visitors (aka "The Hardest Bus To Get On In British Columbia"), or you hike the 11km in and 11km back out in one day. All these restrictions are in place to make sure the wonderful biodiversity of Lake O'Hara's alpine environment is preserved, after previously suffering from over visitation. While not everyone's wallet can stretch to a night at the luxurious Lake O'Hara Lodge, if you can afford it, it will be one of your most memorable mountain experiences. Plus, the lodge runs its own shuttle bus service, so you will guarantee yourself access to this now very exclusive spot, it's hiking trails and spectacular vistas. Either stay in the historic lodge itself, or book one of the lakeside cabins to wake up to a view you will never forget.